Language: German
15.5.1964 (Friday)
Verhandlungsprotokoll der 36. Sitzung des Bundesrates

Minutes of negotiations of the Federal Council (PVCF-D)
Diskussion über Landenteignungen in Tunesien, deren Konsequenzen für die technische Hilfe der Schweiz an Tunesien, die mögliche Aufnahme von Beziehungen mit der Mongolei, den Strassentunnel durch den St. Gotthard, die Mirageaffaire

Printed in
Sacha Zala et al. (ed.)
Diplomatic Documents of Switzerland, vol. 23, doc. 26
volume link
Zürich/Locarno/Genève 2011
more…
|
How to cite:
Copy
Sacha Zala et al. (ed.), Diplomatic Documents of Switzerland, vol. 23, doc. 26, dodis.ch/31967, Zürich/Locarno/Genève 2011.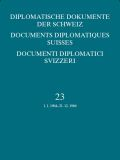 dodis.ch/31967

BUNDESRAT

Verhandlungsprotokoll der 36. Sitzung vom 15. Mai 1964

1

Auszug

Mitteilungen des Vorstehers des EPD2 Landenteignungen in Tunesien
Herr Wahlen orientiert den Rat über die Landenteignungen, die nach Kündigung des Abkommens mit Frankreich3 über eine langsame Nationalisierung auf Grund eines neuen Nationalisierungsgesetzes im beschleunigten Tempo durchgeführt werden. Bourguiba sei zu diesem Schritt offensichtlich durch das Vorgehen Ben Bellas veranlasst worden4. Unser Botschafter5 habe sofort nach Bekanntwerden des Gesetzes eine Demarche6 unternommen und auf das Vertragsinstrument7 der Schweiz mit Tunesien hingewiesen. Herr Wahlen habe den tunesischen Botschafter8 ebenfalls zitiert. Es sei zwar nicht mehr viel Schweizer Besitz vorhanden, weil der grösste Teil noch rechtzeitig verkauft worden sei. Der tunesische Botschafter habe einige Gründe angeführt, die das Vorgehen Bourguibas einigermassen begreiflich machen. Herr Wahlen habe die Reserven des Bundesrates gegenüber diesem Vorgehen ausgedrückt und der Hoffnung Ausdruck gegeben, dass der Vertrag zwischen der Schweiz und Tunesien dem Buchstaben nach eingehalten würde9. Unsere Botschaft in Tunesien sei beauftragt worden mit einer Bestandesaufnahme10 des schweizerischen Grundbesitzes.
Herr Wahlen ist der Meinung, dass diese Kettenreaktion weitergehen werde. Wir hätten das Gleiche auch in Südamerika11 zu gewärtigen. Das einzige lateinamerikanische Land, das eine gewisse Stabilität ausweise, sei Mexiko.
Der Rat nimmt Kenntnis.
Schriftliche Anträge
Politisches Departement
Technische Zusammenarbeit: Bundesbeitrag von Fr. 312'000.– für 1964 an das SHAG, Ausbildungszentrum Hafouz, Tunesien12
Im Zusammenhang mit den vorstehend erwähnten verschärften Nationalisierungsmassnahmen in Tunesien, erachtet es Herr Wahlen nicht als opportun, dieses Geschäft jetzt zu verabschieden. Unsere öffentliche Meinung würde das kaum verstehen. Der Antrag wird deshalb zurückgestellt, bis das EPD eine Behandlung des Geschäftes als opportun beachtet13.
[…] 14