Language: French
28.4.1970 (Tuesday)
Câble No 99

Telegram (T)
À l'occasion d'une rencontre entre E. Brugger et A. Bemporad, Sous-Secrétaire d'État au Ministère italien des Affaires étrangères, le Conseiller fédéral ne cache pas son appréhension au sujet de l'issue de la votation sur l'initiative Schwarzenbach.

Printed in
Sacha Zala et al. (ed.)
Diplomatic Documents of Switzerland, vol. 25, doc. 17
volume link
Zürich/Locarno/Genève 2014
more…
|
How to cite:
Copy
Sacha Zala et al. (ed.), Diplomatic Documents of Switzerland, vol. 25, doc. 17, dodis.ch/35599, Zürich/Locarno/Genève 2014.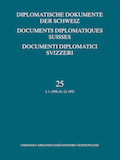 Rome,
28 avril 1970, 10 h 45
Vous adresse court rapport2 au sujet visite C[onseiller]f[édéral Brugger à Milan, mais voici mes impressions quant à conversation échangée avec Bemporad au sujet ouvriers italiens.
1. Brugger a exposé très franchement situation à laquelle doit faire face Gouvernement suisse et n'a pas caché ses appréhensions au sujet issue votation sur initiative Schwarzenbach3, raison pour laquelle l'on souhaiterait du côté suisse que l'on s'abstienne de tout ce qui pourrait apporter de l'eau au moulin de ceux qui pour toutes sortes de raisons seraient tentés de voter pour l'initiative4. M. Brugger a fait appel à la compréhension des autorités italiennes tout en soulignant que du côté suisse l'on avait agi dans l'intention de faire tout le possible pour éviter un succès de l'initiative qui aurait de graves conséquences pour la Suisse5.
2. Du côté italien Bemporad expliqua que le Gouvernement est très anxieux de pouvoir démontrer aux émigrants qu'il fait tout le nécessaire pour défendre leurs intérêts. Il veut éviter de donner l'impression de laisser l'initiative des opérations à l'extrême gauche qui, à des fins électorales, cherche à s'assurer le monopole de la défense des intérêts des ouvriers italiens6. Le Gouvernement italien se préoccupe de rallier au centre gauche le plus grand nombre possible d'émigrants.
3. Dans cette perspective les autorités italiennes regrettent que l'on ait fixé en septembre seulement la réunion de la Commission mixte. Malgré les réunions invoquées du côté suisse le délai paraît trop long et les autorités italiennes auraient préféré négocier une date à fixer au début de l'été.
4. Discussion générale suivit à laquelle Martino et moi-même prîmes part. Il fut suggéré du côté italien que l'on examine possibilité fixer à une date antérieure, début juillet, réunion préparatoire pour établir agenda réunion de septembre7. Ceci dans l'idée sans doute de faciliter position du Gouvernement italien qui voudrait démontrer avoir agi avec toute l'attention nécessaire. Gouvernement italien répondra à notre note dans ce sens. M. Brugger s'est borné à prendre note avec intérêt des raisons invoquées du côté italien en laissant entendre que question serait examinée sur la base réponse italienne à notre note8.
5. Tout l'entretien s'est déroulé sur un ton compréhensif et objectif de part et d'autre, du côté italien l'on souligne nécessité réunir Commission mixte également pour examiner questions techniques restées en suspens9 et antérieures à situation créée par nouvelles mesures adoptées10 par C[onseil]f[édéral].11