Printed in
Sacha Zala et al. (ed.)
Diplomatic Documents of Switzerland, vol. 23, doc. 115
volume link
Zürich/Locarno/Genève 2011
more…
|
How to cite:
Copy
Sacha Zala et al. (ed.), Diplomatic Documents of Switzerland, vol. 23, doc. 115, dodis.ch/31646, Zürich/Locarno/Genève 2011.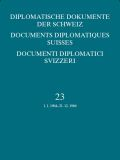 dodis.ch/31646

Der Vorsteher des Politischen Departements,

F. T. Wahlen

, an den Vorsteher des Verkehrs- und Energiewirtschaftsdepartement,

W. Spühler1
In Beantwortung Ihres Schreibens vom 25. Oktober 19652 betreffend die Abstimmung an der UIT-Konferenz3 über die Tadelsresolution4 gegen Portugal5 kann ich Ihnen folgendes mitteilen:
Nach den politischen Zwischenfällen an der Konferenz der Internationalen Arbeitsorganisation im Herbst 19636 erliess das Politische Departement im Januar 1964 generelle Richtlinien für das Verhalten der schweizerischen Delegationen bei politischen Debatten und Abstimmungen an internationalen Konferenzen, von denen ich Ihnen zu Ihrer Orientierung ein Exemplar7 beilege. Sie werden ihnen entnehmen, dass der im vorliegenden Fall einschlägige Passus lautet:
«Si certaines délégations se bornent à essayer de faire voter une résolution portant condamnation de la politique coloniale du Portugal, le débat est alors transporté sur un plan purement politique où l'attitude de la Suisse doit être l'abstention.»
Herr Dr. Hartmann hat sich bei der Beratung der schweizerischen Delegation an diese Richtlinie gehalten. Sie war übrigens dem Chef8 und den Mitgliedern9 der Delegation vor Beginn der Konferenz zugestellt worden.
Die Enthaltung unserer Delegationen in Fällen dieser Art scheint mir nach wie vor richtig zu sein. Sie lässt sich mit dem Willen der Nichteinmischung in politischen, artfremden Auseinandersetzungen der Organisationen begründen10. Die Ablehnung würde von der Grosszahl der Länder als Billigung der «getadelten» Zuständen aufgefasst und uns, selbst im Falle besonderer Erläuterung unserer Stimmabgabe, unnötig Animositäten eintragen. Schweden11 nahm in Montreux dieselbe Haltung ein wie wir.
Eine unterschiedliche Stimmabgabe im Falle offener bzw. geheimer Abstimmung halte ich nicht für angebracht.