Language: Multiple
6.10.1977 (Thursday)
Nr. 228: KSZE No. 2

Telegram (T)
Text des Hauptteils der Tischrede von A. Weitnauer vor etwa 20 der an der Belgrader Folgekonferenz der KSZE vertretenen wichtigsten Länder. Querschnitt der Debatte der ersten Tage und Darlegung des schweizerischen Standpunkts.

Printed in
Sacha Zala et al. (ed.)
Diplomatic Documents of Switzerland, vol. 27, doc. 89
volume link
Zürich/Locarno/Genève 2022
more…
|
How to cite:
Copy
Sacha Zala et al. (ed.), Diplomatic Documents of Switzerland, vol. 27, doc. 89, dodis.ch/49323, Zürich/Locarno/Genève 2022.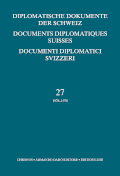 dodis.ch/49323Telegramm des Generalsekretärs des Politischen Departements, A. Weitnauer, an das Politische Departement1 KSZE
Nachfolgend erhalten Sie den Text des Hauptteils meiner gestrigen Tischrede2 am Abendessen bei Botschafter Hess (für etwa 20 der hier vertretenen wichtigsten Länder3).
«... I shall try to express a very few ideas your presence in this hospitable house makes me feel rather strongly about. The first has to do with the role of my own country. Switzerland has reached an important stage in the history of its foreign policy. A permanently neutral country we are and firmly intend to remain. But neutrality is for us not only a source of strength, but is increasingly becoming a means of action. As everybody knows, Switzerland is an economic and financial power of some size and has been acting accordingly for quite some time. But it came as a surprise to many, including ourselves, that we can play, in the political field also, a meaningful, active and sometimes successful part – as at the Helsinki, Geneva and Belgrade meetings4 –, not in spite of our neutrality, but because of it. I think this is owing to the fact that our firm resolve to further peace and understanding between the nations of this world cannot be questioned. Our neutral partners in Europe5 – who saw the light long before us – are there to confirm the truth of what I just said: a neutral country cannot possibly have another policy. My second point concerns all of you, all the countries of Europe, the United States and Canada. It took a genius to foresee, more than a century ago – it is Alexis de Tocqueville I am referring to – that a very special responsibility would accrue to the two giants represented among us, the United States and the Soviet Union (or Russia, for that matter, as Tocqueville was used to say). You must have felt – Ambassador Goldberg, Ambassador Vorontsov – during these very first days of the meeting6 the deep anxiety that pervades humanity, a feeling of real concern caused by the enormous accumulation of horrifying weapons on our continent and elsewhere7. You – and you alone – can do something drastic (and something of this kind is indeed required) to do away with this intrinsic threat, and do it rather quickly. We know and highly appreciate your sense of responsibility for the whole of mankind: so we remain hopeful.
My last point has to do with European unity. A very strong feeling of belonging together, of being members of the same family, was very much present to my mind during these days. Viewed in this context, America – and Canada – are offshoots of Europe who have very visibly outgrown their size, but in outlook and mentality are sometimes more European than we are ourselves. The family spirit which I alluded to, makes us realize that, large or small, powerful or humble, we have all a right to exist according to our own way of life, to be recognized and treated as sovereign members of the ‹European Concert›, as it was called in the past. If there is one thing Europe has always withstood – almost instinctively – it is the hegemony of just one nation over all others. In the case of Europe variety equals strength, and it is its diversity which makes the European world so very beautiful, so immensely worthwhile preserving and developing further. Ever increasing cooperation, which – in the best Helsinki spirit – can only be based on ever increasing mutual trust is the indispensable means to these noble ends.»
Meine Ausführungen wurden gut aufgenommen, dies vor allem auch, und mit Betonung, von den Botschaftern Goldberg und Vorontsov. Ich hatte in meiner Rede versucht, eine Art Querschnitt der Debatte der ersten Tage zu geben und zugleich einen schweizerischen Standpunkt zu vertreten8.
---
Relations to other documents