Language: French
2.6.1972 (Friday)
Nationalisation des médicaments

Letter (L)
Aperçu de la nationalisation des médicaments en Libye, qui met en danger les intérêts suisses.

Printed in
Sacha Zala et al. (ed.)
Diplomatic Documents of Switzerland, vol. 25, doc. 138
volume link
Zürich/Locarno/Genève 2014
more…
|
How to cite:
Copy
Sacha Zala et al. (ed.), Diplomatic Documents of Switzerland, vol. 25, doc. 138, dodis.ch/35771, Zürich/Locarno/Genève 2014.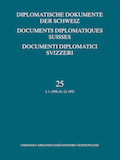 Je vous confirme mon message2 d'autre part à ce propos, ainsi que ma lettre du 30 mai dernier3. Les représentants des principales marques suisses de la branche, après m'avoir expliqué le mécanisme et les conséquences de cette nationalisation, ont mis en évidence les risques actuellement encourus et m'ont convaincu de la nécessité d'aviser dans le but de protéger les intérêts suisses en danger4.
Une organisation étatisée5 a rapidement été constituée avec mission immédiate de saisir à la source tous les médicaments en stock dans le pays ainsi que tous les nouveaux arrivages. Elle a séquestré toutes les archives et les livres de comptabilité, bloqué les comptes bancaires, établi un réseau de surveillance étroite de l'arrivée du courrier et intercepte toute communication. D'importantes sommes sont en jeu: Ciba à elle seule est engagée pour environ LiD 80'000 (FS 950'000).
La méthode employée diffère totalement de celles mises en pratique en pareil cas dans les pays voisins, de sorte qu'il n'est pas possible, pour l'instant, de prévoir les futurs développements et d'éviter ainsi de grands déboires possibles. L'unique voie à suivre est donc celle de la suppression de tout contact pour ne pas donner de prise aux fonctionnaires chargés de l'affaire. C'est pourquoi il est très important de couper totalement tout trafic épistolaire, téléphonique et télégraphique, aussi bien que de s'abstenir de répondre à quelque question que ce soit. Quoiqu'en l'état des choses ce ne soit pas indispensable, au cas où l'envoi d'un observateur serait envisagé, je pense que celui-ci devrait, avant tout, prendre contact avec l'ambassade et voyager sans dossier car il sera étroitement surveillé dès son arrivée. Je vous tiendrai au courant des développements au fur et à mesure qu'ils me seront connus.
À toute bonne fin, je vous communique ci-après la liste des maisons suisses qui, à ma connaissance, sont en relations d'affaires6 avec la Libye: Galactina & Biomalt, Belp; Baeschlin AG, Winterthur; Vifor SA, Carouge-Genève; Siegfried AG, Zofingen; Serum- & Impfinstitut, Bern; Hoffmann-La Roche, Basel; Ciba-Geigy, Basel; Sandoz, Basel; Medinova AG, Zürich; (Solco) Heinz Kremo, Binningen; Procter & Gamble, Glarus; Wander AG, Basel7.