Language: Multiple languages
11.3.1971 (Thursday)
Matériel de guerre

Letter (L)
Selon le Jurisconsulte du DPF, R. Bindschedler, l'exportation de matériel de guerre est avant tout une question de politique étrangère et n'a pas de lien avec la politique ou le droit de la neutralité.

Printed in
Sacha Zala et al. (ed.)
Diplomatic Documents of Switzerland, vol. 25, doc. 64
volume link
Zürich/Locarno/Genève 2014
more…
|
How to cite:
Copy
Sacha Zala et al. (ed.), Diplomatic Documents of Switzerland, vol. 25, doc. 64, dodis.ch/35690, Zürich/Locarno/Genève 2014.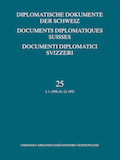 dodis.ch/35690 Le Chef du Service politique ouest du Département politique, M. Gelzer, au Directeur de l'Administration militaire du Département militaire, A. Kaech1 MATÉRIEL DE GUERRE
Nous nous référons à votre lettre2 du 12 février dernier, par laquelle vous nous demandiez de nous prononcer sur le paragraphe 4 du projet d'article cons titutionnel.
Après avoir soumis3 cette affaire au Jurisconsulte de notre Département, nous vous communiquons les remarques suivantes. Comme le relève notre Juris consulte4, il conviendrait de constater dans le rapport5 que vous préparez que le problème de l'exportation de matériel de guerre est avant tout une ques tion de politique étrangère en général et n'a presque rien à voir avec la politique de neutralité. Le Jurisconsulte poursuit:
«Im Friedenszustand verlangen weder das Neutralitätsrecht noch die Neutralitätspolitik irgendwelche Massnahmen auf dem Gebiete der Kriegsmaterialausfuhr. Besteht zwischen zwei Staaten Kriegszustand, so gelten die Regeln des allgemeinen Neutralitätsrechts; Kriegsmateriallieferungen an die beiden Parteien sind dem neutralen Staate verboten, dem Privaten jedoch gestattet. Der neutrale Staat kann allerdings die Ausfuhr verbieten oder Einschränkungen unterwerfen, muss aber diese Vorschriften gleichmässig auf alle Parteien anwenden. Liegt ein bewaffneter Konflikt vor, ohne dass rechtlich der Kriegszustand eingetreten ist, so bestehen keine Pflichten des Neutralitätsrechts. Hingegen wird es in diesem Falle neutralitätspolitisch zweckmässig sein, die Regeln des Neutralitätsrechts analog anzuwenden.
Wie erwähnt ist der neutrale Staat frei, die Kriegsmaterialausfuhr zu verbieten oder zu gestatten. Dabei wird immer wieder vergessen, dass Kriegsmaterialexporte zu den wichtigsten handelspolitischen Waffen gehören können, um lebenswichtige Zufuhren an Rohstoffen und Lebensmitteln für die Schweiz sicherzustellen. Die Ereignisse während des Zweiten Weltkrieges haben das mit aller Eindeutigkeit bewiesen; das 1939 ausgesprochene generelle Ausfuhrverbot für Kriegsmaterial musste schon nach kurzer Zeit stillschweigend wieder aufgehoben werden. Die Ausfuhr von Kriegsmaterial war zu gewissen Zeitpunkten entscheidend sowohl in den Verhandlungen mit den Alliierten wie in denjenigen mit Deutschland. Jede doktrinäre, zum vorneherein festgehaltene Politik muss deshalb vermieden werden.»
En ce qui concerne plus particulièrement la question d'une limitation des exportations de matériel de guerre aux États neutres d'Europe, nous sommes d'avis avec le Jurisconsulte du Département qu'il y aurait lieu de reprendre les conclusions du rapport de la Commission Weber6 qui estimait qu'il fallait d'abord définir ce que l'on entend par États neutres (Chap. V, alinéa 4 du rapport, page 28). À propos de cette définition, notre Jurisconsulte précise:
«Eine ständige Neutralität völkerrechtlicher Natur ähnlich derjenigen der Schweiz hat nur Österreich7. Schweden führt eine ziemlich sprunghafte Aussenpolitik; seine Stellung ist besser als eine solche der Allianzfreiheit zu umschreiben8. Finnland ist teilweise faktisch neutral9, hat aber einen Beistandspakt mit der Sowjetunion. Schliesslich gehört zu den Neutralen in Europa noch Irland. Man könnte auch Jugoslawien dazu zählen.
Es ist nicht einzusehen, warum die Initiative die Ausfuhr nur an neutrale Staaten Europas erlauben will und nicht an neutrale aussereuropäische Staaten. Diese Beschränkung steht wohl im Widerspruch zum Grundsatz der Universalität unseres Aussenhandels.»
Il paraît aussi indiqué de mentionner la collaboration qui existe déjà entre notre pays d'une part, l'Autriche et la Suède d'autre part, en matière de production d'armes10 et les limites de cette collaboration. Enfin, dans cet ordre d'idées, une brève allusion pourrait être faite à nos échanges commerciaux avec ces deux pays portant sur du matériel de guerre avec mention des statistiques les plus récentes. Notre Jurisconsulte continue:
«Nicht verständlich ist auch, warum die Ausfuhr an kleine und mittlere Staaten verboten werden soll, die zwar einem Bündnis angehören, aber lediglich eine defensive Politik verfolgen. Hier ist vor allem an Belgien, Holland und Norwegen zu denken. Schliesslich ist noch zu erwähnen, dass die Schweiz aus dem Ausland in grossen Mengen Kriegsmaterial einführt und zwar keineswegs nur aus neutralen Staaten11. Das wäre auch nicht möglich, weil andere neutrale Staaten gar nicht in der Lage wären, das von uns gewünschte Kriegsmaterial zu liefern. Wir sind im Interesse der Aufrechterhaltung unserer Landesverteidigung auf diese Importe unbedingt angewiesen. Es wäre unhaltbar, von andern Staaten zu verlangen, was wir selbst verbieten würden.»