Language: French
20.8.1969 (Wednesday)
Letter (L)
Les relations commerciales entre la Suisse et l'Union soviétique sont perçues comme bonnes, de même que les contacts qui se sont établis dans les domaines de la science, de la technique et de la culture.

Printed in
Sacha Zala et al. (ed.)
Diplomatic Documents of Switzerland, vol. 24, doc. 163
volume link
Zürich/Locarno/Genève 2012
more…
|
How to cite:
Copy
Sacha Zala et al. (ed.), Diplomatic Documents of Switzerland, vol. 24, doc. 163, dodis.ch/32701, Zürich/Locarno/Genève 2012.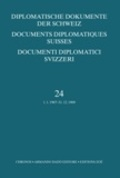 dodis.ch/32701

L'Ambassadeur de Suisse à

Moscou

, J. de

Stoutz

, au Chef de la Division des affaires politiques du Département politique,

P. Micheli1
J'ai eu la visite ce matin de l'Ambassadeur Tchistiakov qui regagne la Suisse ce jour même après un séjour de vacances en URSS. Il m'a fait part de sa satisfaction de l'invitation2 faite par le Conseil fédéral au Ministre du Commerce, M. Patolichev, qu'il a vu récemment. Il m'a paru significatif que l'Ambassadeur soviétique ait aussitôt ajouté que les perspectives d'un développement des relations commerciales3 entre nos deux pays sont bonnes, et qu'il l'ait même répété au cours de notre entretien. Mon impression est qu'il ne faisait que reprendre une opinion qu'il a dû entendre de M. Patolichev. Il a d'ailleurs relevé, dans la suite de la conversation, que le développement des relations bilatérales aurait avantage à s'étendre à divers domaines. J'ai fait alors référence au protocole horloger4 dont il est à souhaiter qu'il puisse être bientôt signé, aux bons contacts qui s'étaient établis ici en ce qui concerne la science des hautes énergies, lors du séjour du Professeur Hochstrasser5, et à un projet de visite de M. Pronskij6, du Comité d'Etat pour la Science et la Technique, à l'Union du Commerce et de l'Industrie à Zurich. J'ai mentionné aussi qu'il était réjouissant que des musiciens et des groupes de chanteurs ou de danseurs soviétiques7 se produisent assez souvent en Suisse où ils connaissent un indéniable succès, mais que quelque chose devrait être fait pour encourager la présentation d'artistes suisses8 sur les scènes soviétiques.
L'Ambassadeur de l'URSS m'a parlé alors de Leniniana que l'on souhaite obtenir ici de la Suisse, l'Archiviste fédéral ayant lui-même dit l'intérêt qu'il aurait à recevoir des archives soviétiques certains documents qui concernent l'histoire suisse. Une invitation a, paraît-il, été adressée au Dr. Haas par son homologue russe9 qui l'accueillerait à Moscou en septembre. M. Tchistiakov me demande d'appuyer ses efforts tendant à faire en sorte que les Leniniana soient remis à son pays où l'on s'inquiète des délais dans lesquels ce geste suisse pourrait intervenir. Le centenaire de la naissance de Lénine se situe en avril prochain et il n'y a plus beaucoup de temps d'ici là. J'ai assuré l'Ambassadeur que l'affaire était à l'examen auprès des autorités suisses qui ne négligeraient pas cette question de temps10.
En conclusion, je voudrais noter que mes premières expériences des quelques contacts que j'ai eux avec les officiels soviétiques ont été bonnes et m'inspirent l'idée que les circonstances devraient actuellement se prêter à une évolution favorable de nos relations avec l'URSS. Quelques questions d'importance secondaire demandent sans doute à être réglées et je me réserve d'en traiter avec votre division lors de mon prochain séjour en Suisse.