Printed in
Sacha Zala et al. (ed.)
Diplomatic Documents of Switzerland, vol. 23, doc. 142
volume link
Zürich/Locarno/Genève 2011
more…
|
How to cite:
Copy
Sacha Zala et al. (ed.), Diplomatic Documents of Switzerland, vol. 23, doc. 142, dodis.ch/31859, Zürich/Locarno/Genève 2011.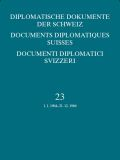 dodis.ch/31859 Weisungen für die Operative Führung
Mit Datum vom 15. April 1966 hat das Militärdepartement dem Bundesrat den Entwurf2 zu einem Bericht an die Bundesversammlung über die Konzeption der militärischen Landesverteidigung3 zur Genehmigung unterbreitet, mit dessen Erstattung der Bundesrat im Jahre 1964 auf Grund der Motion Bringolf-SH4 beauftragt worden war. Gleichzeitig reichte das Militärdepartement die inzwischen auf Veranlassung des Bundesrates endgültig bereinigten Textteile zu einem weiteren dem Bundesrat bereits ca. vor einem Jahr übermittelten Dokument5 zur Genehmigung ein, welches ursprünglich als Grundlage zum Bericht auf die Motion Bringolf-SH gedacht war.
Im Nachgang zu diesen beiden Dokumenten beehrt sich das Militärdepartement nunmehr dem Bundesrat auch ein drittes Dokument, nämlich den Entwurf zu einer neuen geheimen Führungsvorschrift unter dem Titel «Weisungen für die Operative Führung»6, zur Genehmigung vorzulegen. Auch für diese Führungsvorschrift war das erwähnte vor ca. einem Jahr ein gereichte Dokument als Grundlage gedacht. Alle drei Werke sind heute inhaltlich aufeinander abgestimmt und haben die einhellige Billigung der Landesverteidigungskommission gefunden. Die Vorgeschichte ist im vorhergehenden Antrag des Militärdepartements vom 15. April 19667 dargestellt und es wird der Einfachheit halber auf diese Ausführungen verwiesen.
Die Weisungen für die Operative Führung regeln, wie schon ihr Name andeutet, die Führungstätigkeit der höchsten militärischen Kommandostufen (Armeekommando inkl. Flugwaffe und Armeefliegerabwehr und Armeekorps sowie – unter gewissen Voraussetzungen – auch der Divisionen). Die Probleme der taktischen Führung (von der Division an abwärts) werden in einem besonderen Reglement ihre Darstellung finden. Dieses Reglement8 – unter dem Titel «Truppenführung» – befindet sich in Vorbereitung. Seine Genehmigung fällt in die Zuständigkeit des Militärdepartements.
Gestützt auf diese Erwägungen beehrt sich das Militärdepartement
zu beantragen:
Der vorgelegte Entwurf zu einer geheimen Vorschrift «Weisungen für die Operative Führung» wird genehmigt9.