Language: Multiple
28.1.1972 (Friday)
Telegram (T)
Überblick über einen Fall von wirtschaftlichem Nachrichtendienst, in den je ein Mitarbeiter der britischen Botschaft und der Treasury verwickelt sind.

Printed in
Sacha Zala et al. (ed.)
Diplomatic Documents of Switzerland, vol. 25, doc. 115
volume link
Zürich/Locarno/Genève 2014
more…
|
How to cite:
Copy
Sacha Zala et al. (ed.), Diplomatic Documents of Switzerland, vol. 25, doc. 115, dodis.ch/35632, Zürich/Locarno/Genève 2014.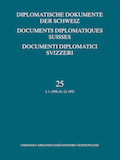 Bern,
28. Januar 1972, 15.00 Uhr
Primo – Bundesanwalt Walder informiert uns wie folgt über einen Fall wirtschaftlichen Nachrichtendienstes, in den ein Mitarbeiter hiesiger britischer Botschaft sowie ein Beamter der Treasury verwickelt sind:
«Le 19 janvier 1972, la Police fédérale, en collaboration avec la police genevoise, a procédé à l'arrestation à Genève des nommés Favez Maurice et Ryter Jürg en vertu d'un mandat d'arrêt décerné par le Ministère public fédéral pour infraction à l'art. 273 CPS (espionnage économique).
Les prévenus sont en effet accusés et convaincus d'avoir, depuis l'automne 1970 au printemps 1971, entretenu des relations et fourni des informations à un ressortissant britannique employé au Service du Trésor, sur des comptes courants de clients domiciliés en Angleterre et que la Société Financière Mirelis SA à Genève2, qui les employait, était chargée de gérer. Ce fonctionnaire du Trésor se nomme:
Little Stanley H., né le 16 ou 26. 9. 1903, ressortissant britannique, domicilié à Londres.
Il a été identifié avec certitude et, pour ces motifs, le Ministère public fédéral a également décerné un mandat d'arrêt contre lui en vertu d'infraction aux art. 271 et 273 CPS, mandat non exécuté à ce jour.
En outre, toute cette opération a été menée, dirigée et organisée par un fonctionnaire de l'Ambassade de Grande-Bretagne à Berne, le nommé
Latham Henry-Ryder, Premier Secrétaire, domicilié à Berne.
Il a été établi à ce jour que dix entrevues eurent lieu en Suisse et à l'étranger, auxquelles participèrent pour la plupart les personnes mentionnées ci-dessus. Il s'est agi dans certains cas de rendez-vous que l'on peut désigner comme étant d'ordre tout à fait conspiratif.
Il est estimé qu'une cinquantaine de clients de la Société Financière Mirelis SA ont été ainsi dénoncés, soit par la transmission de leurs nom, adresse et numéro de compte, soit par la transmission de reproductions ou copies de leurs comptes courants.
Tous les faits sont reconnus par les inculpés qui, actuellement, sont détenus à la prison de Saint-Antoine à Genève. Ils ont touché un montant de fr. 5'200 pour leurs informations.»
Secundo – Bundesanwalt hat Latham (der bisher gleichzeitig als Verbindungsmann zwischen britischem Geheimdienst und Bundesanwaltschaft fungierte) anfangs dieser Woche kommen lassen3 und ihm mitgeteilt, dass er angesichts des Vorgefallenen Schweiz baldmöglichst verlassen müsse. Könnten unter gegebenen Umständen, falls Engländer Latham nicht zurückziehen sollten, in der Tat nicht anders, als diesen p[ersona]n[on]g[rata zu erklären. Engländer scheinen denn auch mit Rücknahme Latham einverstanden. Haben unsererseits in gleichem Sinne mit Botschafter Midgley gesprochen4.
Tertio – Nachdem Angeschuldigte geständig und Ermittlungsverfahren praktisch abgeschlossen, müssen die zwei Schweizerbürger in allernächsten Tagen aus Haft entlassen werden. Bundesanwalt ist im Hinblick auf allfällige Kontakte zwischen Presse5 und Angeschuldigten genötigt, bei deren Freilassung ein Communiqué zu publizieren6, was für Ende nächster Woche vorgesehen ist. Es ist beabsichtigt, darin zu erwähnen, dass ein Funktionär britischer Botschaft in Angelegenheit verwickelt war, dieser habe Schweiz bereits verlassen.
Quarto – Obiges lediglich zu eurer Orientierung für den Fall, dass ihr auf Angelegenheit angesprochen werden solltet7. Von euch aus wäre indessen vorläufig nichts Besonderes vorzukehren.