Language: French
5.10.1967 (Thursday)
Des fonctionnaires philippins cherchent à obtenir des informations sur le système bancaire suisse en général et sur la question des comptes numérotés en particulier.

Printed in
Sacha Zala et al. (ed.)
Diplomatic Documents of Switzerland, vol. 24, doc. 47
volume link
Zürich/Locarno/Genève 2012
more…
|
How to cite:
Copy
Sacha Zala et al. (ed.), Diplomatic Documents of Switzerland, vol. 24, doc. 47, dodis.ch/32230, Zürich/Locarno/Genève 2012.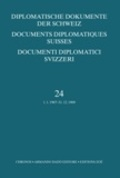 dodis.ch/32230
En me référant à votre lettre du 24 juin2 dernier, j'ai l'honneur de vous faire savoir que le Ministère des Affaires étrangères m'a prié par téléphone, le 28 septembre, de mettre à sa disposition le lendemain un collaborateur de l'Ambassade pour y entretenir un petit groupe de fonctionnaires philippins du système bancaire suisse. J'ai offert de me présenter moi-même, mais mon interlocuteur parut éprouver de l'embarras et me laissa entendre – bien que le nom du sous-secrétaire d'Etat Ingles eût été initialement avancé – qu'il s'agirait d'un colloque à un échelon inférieur. J'ai alors désigné M. Cuénoud pour remplir la mission d'information.
Comme je soupçonnais qu'il pût y avoir une relation entre la demande du Ministère et l'affaire qui fait l'objet de votre lettre précitée, j'avais donné pour instructions à M. Cuénoud de ne pas entrer en matière dans cette éventualité et de se déclarer incompétent.
D'emblée, M. Cuénoud dut se rendre compte que les trois fonctionnaires présents, dont le porte-parole était un certain Rosario, du Ministère des Fi nances, n'étaient pas spécialement avides de renseignements sur le fonctionnement de nos établissements bancaires et sur la législation y relative. En fait, ce qu'ils voulaient savoir, c'était si «légalement» ou «par d'autres moyens» (étant donné les bonnes relations qui existent entre la Suisse et les Philippines3 – sic) il était possible d'obtenir des informations sur des comptes bancaires appartenant à des ressortissants philippins4. M. Cuénoud ne cacha pas son étonnement et déclara qu'il pensait avoir été appelé pour une séance d'orientation d'un tout autre ordre. Pour couper court à tout palabre, il tendit séance tenante à ses interlocuteurs la documentation qu'il avait emportée, à savoir la brochure «Banking Secrecy in Switzerland»5 éditée par le Crédit suisse à Zurich et un exemplaire en langue anglaise de l'exposé fait par le Président de la Confé dération devant l'Associationde la presse étrangère en date du 24 avril6.
Normalement, l'entretien aurait dû se terminer là. Mais un collègue de Rosario, du même Ministère, prit le relais et attaqua de front la question des comptes numérotés, se préoccupant de savoir avant tout si au moyen d'un «Court Order» il serait possible de parvenir à la levée du secret. Supposons, releva-t-il en substance, que des documents et une importante somme d'argent soient déposés dans une banque à Zurich (cette place a été évoquée plusieurs fois), quelle serait la personne avec qui nous devrions prendre contact pour nous aider à venir à bout du secret? M. Cuénoud réitéra son incompétence et se déclara prêt à me soumettre, comme on le lui demandait, un questionnaire écrit. Voici, pour mémoire, les trois questions posées, pour lesquelles je me suis borné à renvoyer le Ministère à l'étude de la documentation remise et à exciper que je n'avais pas qualité pour en apprécier la portée juridique:
1) What are the laws in Switzerland pertaining to divulgence of banking deposits of a depositor?
2) If valuable documents are involved, how can our Government request the Swiss banking institutions to turn over valuable documents belonging to Philippine residents, for our possession?
3) How can an executor of an estate of a deceased client who was formerly a resident of the Philippines secure the authority of the Swiss banking institutions to turn over to him valuable documents and monies belonging to his deceased client?
A toutes fins utiles, j'ajoute que trois fonctionnaires philippins7, dont deux étaient présents au «colloque», ont sollicité des visas pour se rendre cette semaine encore à Zurich et Genève8.
[…]9