Language: French
6.5.1965 (Thursday)
Banque Sturzenegger

Memo (No)
Acceptation du compromis proposé pour la liquidation de l'affaire de séquestre concernant la Banque Sturzenegger.

Printed in
Sacha Zala et al. (ed.)
Diplomatic Documents of Switzerland, vol. 23, doc. 81
volume link
Zürich/Locarno/Genève 2011
more…
|
How to cite:
Copy
Sacha Zala et al. (ed.), Diplomatic Documents of Switzerland, vol. 23, doc. 81, dodis.ch/31217, Zürich/Locarno/Genève 2011.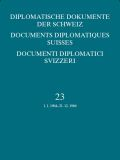 Me fondant sur la lettre du 30 avril 1965 de notre Ambassade à Ottawa3, j'ai téléphoné mardi matin à M. Sturzenegger à Bâle et mercredi matin à Me Ott pour leur dire que le Département politique avait été informé de l'offre qui avait été conjointement faite à la Banque Sturzenegger par l'OAP à Washington et le Séquestre canadien. J'ai ajouté que selon des informations obtenues des Etats-Unis, nous avions reçu confirmation de cette offre. MM. Sturzenegger et Ott étaient, m'ont-ils dit, sur le point de nous téléphoner pour s'entretenir avec nous de cette question.
La proposition américano-canadienne d'offrir un million de dollars se décomposant en 500'000 dollars américains et 500'000 dollars canadiens revient à offrir au cours actuel de ces derniers 961'000 US $. Cela représente d'après Me Ott 49% des avoirs de la Banque Sturzenegger, et de Sturzenegger – Grutchemie, actuellement séquestrés aux Etats-Unis et au Canada. Encore une précision: les avoirs totaux séquestrés au Canada et aux Etats-Unis se montent à US $ 1'926'000 dont 774'000 appartenant à Interhandel4 (presque entièrement par le truchement de Grutchemie).
Aussi bien à M. Sturzenegger qu'à Me Ott, j'ai transmis l'avis de M. Probst5 qui consiste à leur conseiller vivement d'accepter cette offre. Mes deux interlocuteurs m'ont assuré qu'ils partageaient entièrement cette façon de voir mais qu'ils devaient également consulter Interhandel. M. Sturzenegger s'entretiendra ces prochains jours avec MM. Wettstein et Wehrli à ce sujet. M. Sturzenegger m'ayant demandé s'il pouvait auprès de ses interlocuteurs faire état du conseil de M. Probst, j'ai informé à titre confidentiel que si Interhandel devait faire des difficultés pour accepter l'offre en question, M. Sturzenegger est décidé à passer outre et à l'accepter pour la part qui lui revient.
J'ai mis Me Ott au courant, sans le nommer, d'un cas qui nous occupe aux Etats-Unis (FondationSchindler6) et à propos duquel une offre de partage 50/50 a été également faite. L'OAP sera dissout dans le courant de l'année et les dossiers encore en suspens à cette date seront transférés à une autre administration. (Ce qui ne sera guère de nature à faciliter une solution des affaires à partir de ce moment). A côté d'autres arguments (coût de la procédure, etc.), Me Ott emploiera également ces derniers si cela devait s'avérer nécessaire avec les représentants d'Interhandel.
Pour terminer, MM. Sturzenegger et Ott remercient encore une fois le Département politique des efforts qu'il a déployés aussi bien aux Etats-Unis qu'au Canada pour trouver une solution satisfaisante à l'affaire. Au moment où ces efforts sont sur le point de porter leurs fruits, mes interlocuteurs n'ont pas voulu laisser passer l'occasion pour nous exprimer oralement leur reconnaissance. Elle s'étend naturellement aussi à nos représentations diplomatiques à Washington et Ottawa. Me Ott croit savoir que l'intervention de M. McNaughton, auprès des Autorités canadiennes, a été particulièrement utile; il est très reconnaissant à l'Ambassadeur Gasser de lui avoir recommandé cette personnalité pour s'occuper de l'affaire Sturzenegger au Canada.