16.9.1921
44761
Memorandum (aide-mémoire)
Questions concerning the recognition of states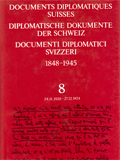 Exposé sur l'état des relations diplomatiques entre la Suisse et le Mexique. La Suisse hésite à reconnaître le gouvernement du Général de La Huerta, puis celui du Général Obregon. Les intérêts...

fr
21.8.1925
45099
Minutes of the Federal Council
Mexico (Politics)
Der Bundesrat legt die Gründe dar, die ihn in der Frage der Anerkennung der Regierung Mexikos bisher zur Vorsicht gemahnt haben. In einer Note soll der mexikanischen Regierung mitgeteilt werden, dass...

fr